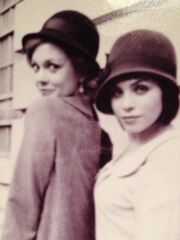 Freya Beauchamp
reincarnated and lived some time in the 1930s.
Biography
Edit
In the 1930s, Freya was a young and wild girl who liked to seduce men, and she did so with Doug, a young warlock. Though he was in love, she just thought their relationship to be for the fun, and when he proposed to her, she laughed at him. Angry, Doug became violent towards her, and as revenge, she trapped inside the painting of a desert, to leave him burning for eternity.[1]
The current incarnation of Ingrid later found pictures of the 1930 Freya and 1930 version herself in Joanna's trunk.[2]
Freya was one of the many witches who lived on Earth and practiced their magic in secrecy. She possessed the powers of:
| | |
| --- | --- |
| Individual powers | Basic powers |
Miscellaneous
Edit
Appearances
Edit
References
Edit