"
It's New York, we could do anything. The whole city is open to us. We could see a burlesque show, or a bad comedy act. Hear some Derrida lecture at NYU. Or we could go bowling at the Piers. I know, what about this bar in the East Village where the waiters are real Belgian monks? Or maybe we could go rowing in the Park?
"

— Dylan suggesting things to do for his date with Bliss.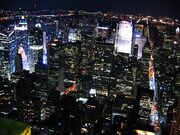 New York City
is the economic and financial center of the United States of America, as well as the world's biggest metropolis. It is the center of the
Blue Blood
North American Coven
, first lead by the Force/Van Alen family and then by
Oliver Hazard-Perry
.