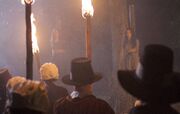 The
Witch Trials
were a famous series of trials led against women, and men, who were accused of witchcraft in the late seventeenth century. In Melissa de la Cruz's novels,
Freya
and
Ingrid Beauchamp
were both hanged because they were caught using magic. Of course, as immortals, they were both reborn in another lifetime.
The main consequences of this trial on the Beauchamps were first, the departure of Norman, who was cast out by Joanna after he did nothing to save his daughters, and then the Restriction, imposed on all the Witches living in Midgard.
In the original novels Ingrid and Freya were hanged, whereas in the TV series they were burnt at the stake.
Salem 1692 was the last time the Beauchamp was united, until they all joined in North Hampton.