"
THE WITCHING HOUR IS COMING.
"

— The first season's tagline.

The first season of cable drama Witches of East End began airing on October 6, 2013 and was composed of ten episodes, ending its run on December 15, 2013. The season got an average audience of 1,67 million viewers and the series was renewed on November 22, 2013 for a second season of thirteen episodes.
In the little secluded town of East Haven, Joanna Beauchamp lived with her two daughters - Ingrid, a calm and shy librarian, and Freya, the wild and sexy young bartender. The three of them had been living a quiet and happy life - Freya was even about to get engaged with Dash Gardiner, the handsome and wealthy doctor that arrived in town a while ago - until a mysterious wave of darkness came into play.
Unbestknown to them, Joanna had been hiding something from them - that they are powerful and immortal witches - because she learnt that magic always comes with a price and has always taken the lives of her daughters at around the same age that they are now. So, in this lifetime, Joanna thought that keeping magic secret would save them... But everything was put in jeopardy by the arrival of Joanna's own sister, the mischievous Wendy, who brought with her the news that an enemy might have been after Joanna - forcing the matriarch to reveal the thing she had hoped to keep a secret forever.
Indeed, the Beauchamp ladies have made a lot of enemies in their many lives, but one in particular seemed determined to take them down - a mysterious Shifter, who assumed the identity of Joanna to bring the attention on Joanna and her family... Which, for a witch, is a bad thing. And each of them will have to face the consequences of their identity. Will Joanna defeat her enemy and protect what she values the most - her family? Will Wendy find peace with herself and the things she did in her past? Will Freya be able to choose between Dash Gardiner and his brother, Killian, with whom she feels a really strong connection? Will Ingrid understand the real meaning of being a witch?
Across the first season of Witches of East End, the four Beauchamp ladies will encounter many things: dark secrets from their past, dangerous enemies and death - but also joy and love. And the only thing that will prevail are their solid family ties, strong and united. 
Characters
Edit
Main characters
Edit
Image
Title
Airdate
Number
Ratings
Pilot
Oct. 6, 2013
#101
1,93 million (0,7)
Joanna Beauchamp and her two adult daughters Freya and Ingrid — both of whom unknowingly are their family's next generation of witches — lead seemingly quiet, uneventful modern day lives in Long Island's secluded seaside town of East Haven. But, when Freya becomes engaged to a young, wealthy newcomer, a series of events forces Joanna to admit to her daughters they are, in fact, powerful and immortal witches.




Marilyn Fenwick, R.I.P.
Oct. 13,2013
#102
1,93 million (0,8)
Ingrid discovers mysterious and dangerous family heirlooms that she uses to resurrect her Aunt Wendy. Together, they race to save Freya from Doug, her jilted ex-boyfriend from another lifetime. Joanna is jailed and questioned by the police regarding her murder charge. Dash and Killian have a tense reunion.




Today I am a Witch
Oct. 20, 2013
#103
1,69 million (0,6)
Wendy teaches Ingrid and Freya how to use their powers while Joanna is trying to figure out which of her many former enemies might be responsible for framing her recently. Ingrid also struggles with the consequences of the resurrection spell she's cast to save Wendy and Freya gets a new co-worker at the Bent Elbow bar.




A few good talismen
Oct. 27, 2013
#104
1,83 million (0,7)
Joanna's immortal attorney Harrison prepares for her murder trial. Afraid for Adam's safety, Ingrid re-evaluates her relationship with him. Penelope recruits Freya to help her mend the rift between Dash and Killian. Wendy seduces an entomologist while trying to gather ingredients for a spell. Joanna and Harrison try to protect Principal Redmond from the shifter.




Electric Avenue
Nov. 3, 2013
#105
1,60 million (0,7)
Ingrid finds a unique way to mourn for Adam. Joanna and Harrison take their friendship to the next level. Freya meets Dash's ex fiancée Elyse when she returns to deal with some unfinished business.




Potentia Noctis
Nov. 10, 2013
#106
1,46 million (0,6)
Freya makes a startling discovery at Fair Haven while Ingrid has flashbacks to one of her past lives.




Unburied
Nov. 17, 2013
#107
1,62 (0,5)
The shifter summons a familiar face. Ingrid makes a discovery about her past while a novelist visits East End to do research for his book. Wendy tries to get serious with Leo and Joanna reads Freya's tarot cards.




Snake Eyes
Nov. 24, 2013
#108
1,51 (0,6)
Wendy and Joanna come to blows over a secret Joanna has been keeping for over a hundred years. The shifter threatens Freya. Ingrid suspects Mike's ulterior motives.




A Parching Imbued
Dec. 1, 2013
#109
1,40 (0,5)
A mysterious professor with old connections to the Beauchamps tries to help Freya regain her powers. Mike reveals an interesting theory to Ingrid. Killian makes a decision about his future in East End while amidst wedding preparations, Dash tries to solve the mystery of the catacombs.




Oh, What a World!
Dec. 15, 2013
#110
1,73 (0,6)
Freya's wedding day arrives; both Killian and Dash give Freya wedding gifts; Joanna and Wendy discover the identity of the shifter; Mike takes dangerous measures to complete his plan.r



Narrative arcs
Edit
The Revelation arc (Episode 1-5) : this arc focuses on the revelation of the girl's identity as witches and the aftermath of this revelation: the first spells, the first successes and the first failures, as well as the way they will deal with the consequences of their actions.
The Revenge arc (Episode 6-10) : this arc goes deeper in the history of the Beauchamps and reveals the origins of the darkness that is after them, especially after Joanna. It also reveals the Asgardian origin of the Witches.
Production
Edit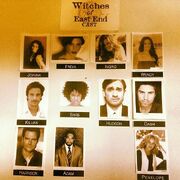 Casting however underwent a few changes and the pilot was to be shot again. Indeed, as revealed by Nicholas Gonzalez himself on his twitter account, a few days after the pick-up announcement, the actor was dropped from the show; and on June 6, 2013, it was announced that Patrick Heusinger's role as Dash Gardiner would be recasted, for creative reasons.
[8]
 As a result of this, Mädchen Amick was promoted to be one of the main characters in the show.  
June 26, 2013: TVLine revealed that Eric Winter would replace Patrick Heusinger as Dash Gardiner.[9]
July 9, 2013: the recurring role of detective Adam (formerly Matt Torcoletti) was attributed to Jason George.[10]
July 12, 2013: Virginia Madsen replaced Glenne Headly for a multi-episode arc as Penelope, Dash and Killian's mother.[11]
Other recurring roles were also announced as the series was being filmed.
August 12, 2013: Freddie Prinze Jr. booked a guest role on the show, as Leo Wingate, with the possibility that it could become recurring.[12]
October 2, 2013: Joel Gretsch was announced for a two-episode arc as Victor.[14]
October 9, 2013: Enver Gjokaj was confirmed as having received a major recurring role as Mike.[15]
Filming the pilot began on October 16, 2012 in the port town of Wilmington, North Carolina, and went on in Macon, Georgia (where they filmed the wedding scenes for the pilot at the historical Hay House)[16]. Filming ended on November 5, 2012. When the network Lifetime announced Witches of East End was going to be a series, it was decided that shooting for the rest of the series would take place in Vancouver, Canada, instead of continuing in Wilmington, North Carolina. Later on, it was announed that the filming period for the first season would be taking place from July 16 to October 21. On Monday, June 10, Maggie Friedman announced on twitter she was scouting locations for the series, trying to "find Fair Haven".[17]
Promotional pictures
Edit
Main article: Season 1/Music
DVD release
Edit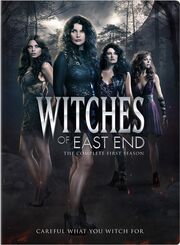 Main article: Season 1/DVD
The DVD box set for the first season of Witches of East End will incude 3 DVDs and is to be composed of the ten episodes of the season, interviews of the cast, deleted scenes and bloopers. The DVD box set will be out on June 24, 2014 for Region 1, and on October 27, 2014 for Region 2.
The least watched episode so far is A Parching Imbued, while the least rated episodes on the 18-49 demographic target are Unburied and A Parching Imbued.
References
Edit