Time has come. Everyone, it's time to celebrate. Witches of East End will premiere on... **suspence**... Sunday, October 6, at 10:00pm ET/PT on Lifetime. I can't believe it. It is REAL now. The show is coming, and a lot of people are getting excited for it. It even trended on Twitter!!!
Second good news. The official synopsys is now released - check this out:
"Inspired by Melissa de la Cruz's New York Times best-selling novel, Witches of East End centers on the mysterious Beauchamp family: free-spirited artist Joanna (Ormond) and her two grown daughters, wild-child bartender Freya (Dewan Tatum) and shy librarian Ingrid (Boston), both of whom are unaware that they are gifted (and cursed) with a magical birthright.  Freya is recently engaged to the man of her dreams, wealthy playboy Dash Gardiner (Winter), but when she finds herself inexplicably drawn to Dash's troubled, enigmatic brother Killian (DiTomasso), bizarre occurrences begin to manifest in her life.  Meanwhile, Joanna's long-estranged sister Wendy (Amick) shows up with a warning that could change the Beauchamps' fate forever, forcing Joanna to reveal to her daughters they are, indeed, immortal witches who possess great untapped powers.  With their idyllic small town life now turned upside down, and a formidable and ancient enemy intent on ending the Beauchamp family line, will Freya and Ingrid be able to accept their true potential before it is too late?"
And... Because good news come by group of three... Here is the first look at the Witchy Joanna!!! (Thanks to Entertainment Weekly)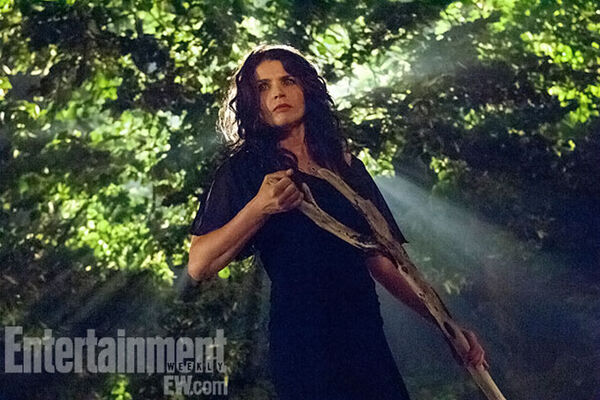 Community content is available under
CC-BY-SA
unless otherwise noted.